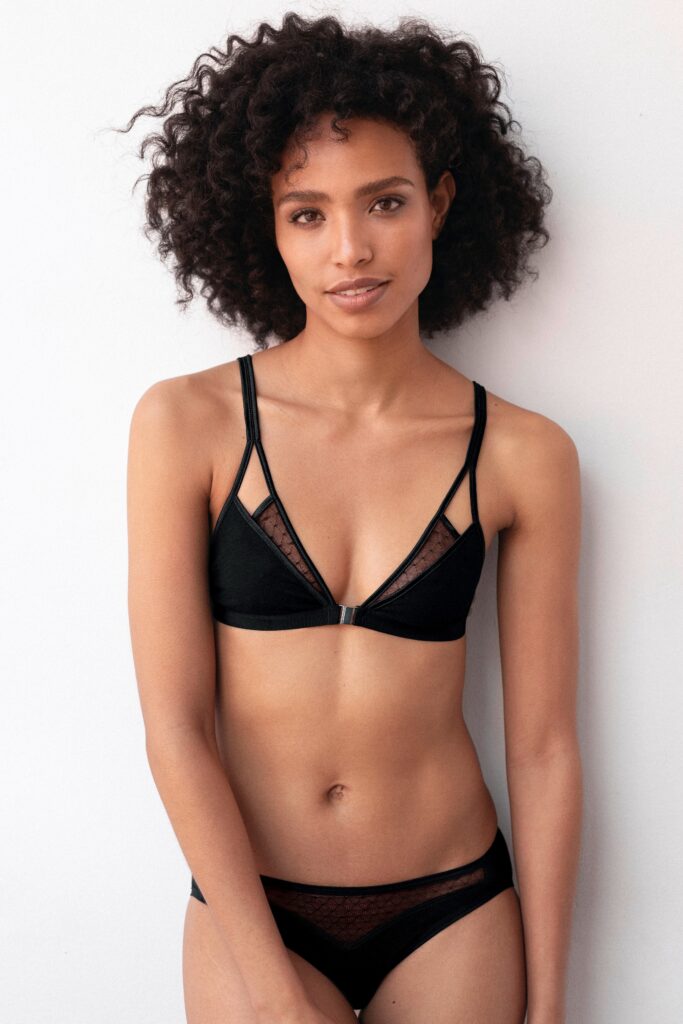 An interview with AIKYOU.
Now, let's talk about lingerie – AIKYOU is one of the finest lingerie fashion brand I have found. I must say a note it is for small busts. It is elegant, chick and the design is with a twist of sophisticated feminicity. With shadows of different shapes and their ethical fabrics are they setting the tone for modern women to embrace them self in their lingerie, without harm and the nature, people and animals. AIKYOU is one good ethical choice if you want to look beautiful and with good self esteem, and still are carring a simple giving a damn for envorionment, humanity and animals. You got the high design together with a good portion of good conscience.
Q&A:
How do you contribute to a better fashion industry?
AIKYOU is the lingerie brand for small busts. Our underwear is Fairtrade certified (for our organic cotton), has been tested according to STANDARD 100 by OEKO-TEX®, and qualifies as PETA-Approved Vegan. On principle, sustainability has never been a marketing trend for us, but always a matter of course. And there is so much more to it than just certifications. We handle all resources responsibly, and follow this mindset both professionally and in our private lives.
What got you the idea in the first place?
We think small busts are gorgeous. Just the way they are. That's our credo, and that's why we founded AIKYOU in 2011, because there were simply no bras on the market meeting the requirements of small-busted women. We wanted underwear without any underwiring or enlarging push-ups, with special designs for small boobs – and all of that produced in a sustainable way.
Why is it important to change the fashion industry?
We believe in change, in thinking twice, in asking questions, both in fashion and elsewhere. All of this we do in order to make things better and create a more sustainable life. With this in mind, we always do our best – without claiming to be perfect. Our brand AIKYOU, inspired by a Japanese female name, exactly expresses this attitude: it translates as "love and respect".
What would you change in the fashion industry?
We think we need to direct our focus ever more on the quality of design, fabrics and craftsmanship, in order to create fashion you will love wearing for many years. Also, from the outset, we realised that acting sustainably is not limited to finding the right materials and production conditions. Consequently, we keep questioning what doing business in a sustainable way actually means. For us, discount battles, which promote processes resembling the fast fashion system, are not part of it.
What do you think would happen if we don't change the fashion industry?
Standstill is a step backward, it is the same in so many aspects of life: if you won't act, if you won't try to change, nothing will be different, nothing will evolve. Therefore, every small step counts – even if you can't change the world or the fashion industry as a whole. So let's all join together in always making things a bit better!
Thank you to AIKYOU – check them out on: