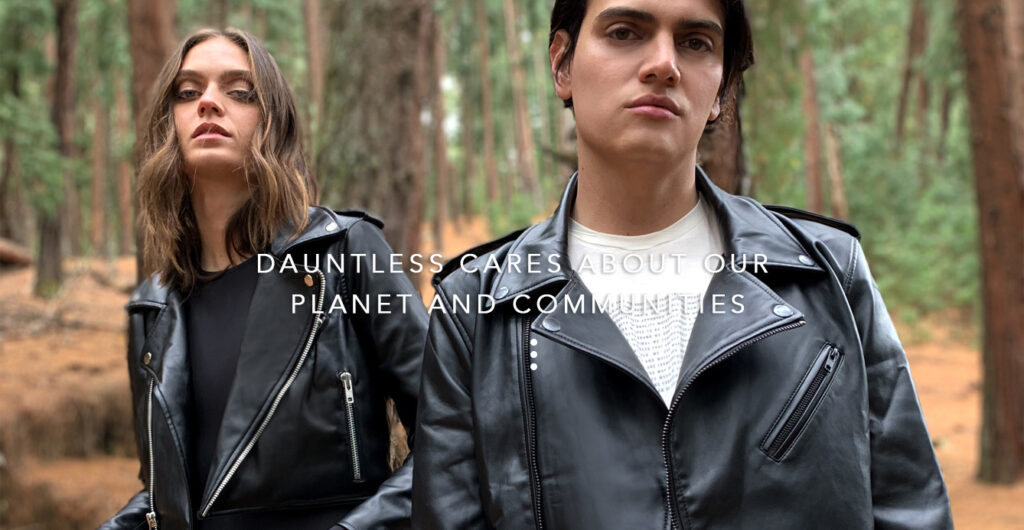 An interview with DAUNTLESS
Dauntless is a vegan ethical brand – with a fascinated design. Here you can shop with good conscience. They highly notes with amazing fashion, good quality and cruelt-free desing. This is the platform to look for, in terms of great design both for women (and men). Their apparel is presented in f.x. Vogue and BAZAAR. Their design are classic with a twist, simple yet complicated, well-thought, new thinking and eye-catching here at www.dauntless-clothing.com. They have certificates like GOTS and PETA. GOTS is The  Global Organic Textile Standard, PETA is an insurerings that they don't harm animals. If you're looking for an environmentally, sustainable and ethical brand, then buy DAUNTLESS.
How do you contribute to a better fashion industry?
I have always been an activist at heart and want to make a positive impact as a human being and through my ventures. Through Dauntless we are able to show the importance of a responsible modern supply chain as well as helping consumers be conscious in their purchases and really looking into what they are buying and where they are buying it from.

What got you the idea in the first place?
In 2014 I saw a lack of corporate social responsibility in the fashion industry and wanted to create a business that changed the perception of sustainable and vegan fashion whilst creating a positive change in our consumer ways. I had the pleasure of working at a startup that sold only royal warrant brands. Royalty gave these warrants to brands for their authenticity, craftsmanship, sustainable and social good however at that time, the fashion industry did not have any social or environmental good in their business mission and values.

Why is it important to change the fashion industry?
The fashion industry is one of the biggest pollutants in the world. People still have to get dressed and people want to feel good so why not make the fashion industry more responsible and more conscious and help those consumers change their way of purchase.
What would you change in the fashion industry?
There is too much of everything and anything. I would think that at this time, 2021, there should be laws where every industry/company is obligated to have a positive sustainable and social aspect to them.

What do you think would happen if we don't change the fashion industry?
Thanks to the new mentality of consumers, the consumers have obligated brands to change if not they will not survive as a business. If we don't change we will not have a planet for tomorrow.
Thank you to DAUNTLESS – check them out on:
www.dauntless-clothing.com